Description
You will receive a 100 acre property on the Moon, on Mars and on Venus, too. | Buy planets now in a tripple pack
The big triple package includes:
100 acre each on the Moon, Mars and Venus
a colorful, personalized deed for each planet with your name and the coordinates of the property
Moon Map, Mars Map and Venus Map with the location of your property marked on it
Interesting, colorful info brochure with facts about the Moon, Mars and Venus
Free of charge: all documents are available for download within 24 hours
We would like to show you in a few very simple steps how to use your coupon correctly.
The pictures are taken from one of our other sites, but the workflow is the same.
Please put in the name for the first certificate and, if you like, the name for the free additional certificate. Select any accessories you like (not included, there will be a charge) and click "ADD TO CART."
Ready? OK, let´s go to view our cart and check out.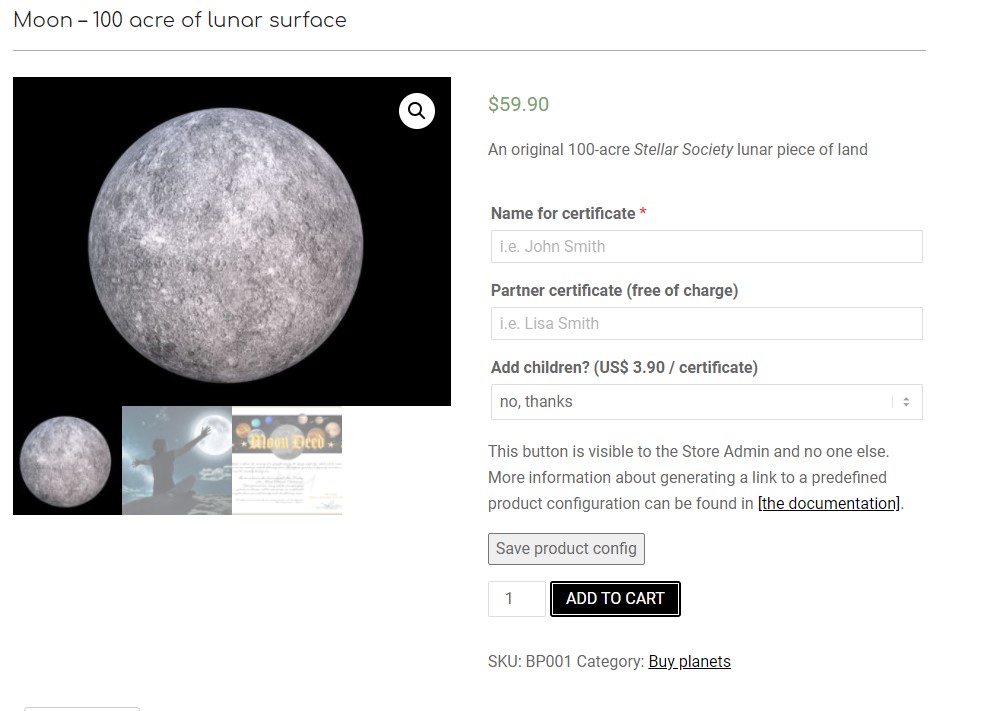 Now we redeem your voucher.
A: please copy your voucher code from Groupons´s website. Make sure, you copy the REDEMPTION code, not the order number or anything else. It needs to be the redemption code. Click on "Apply Coupon"
B: please check now if the voucher value was deducted correctly. It should be 59.90 for all planets, 139.90 for the Triple Package.
C: if the voucher has been redeemed, please proceed to checkout.
At the checkout please fill in your address and proceed to payment. There will be no charge for the certificates (with the exception of children's certificates, if you would like to order some)
We need to charge for shipping. The certificates will be sent by air from Europe to the USA , where USPS receives the packages and delivers them to you.