Description
Your property claim on Mars | Buy land on mars now
Mars has inspired mankind at all times. In old Egypt Mars was referred to as "Horus the Red". As the planet moves backwards for a while in its apparent retrograde motion, the Egyptians talked of Mars moving backwards. The name of the Egyptian capital 'Cairo' is derived from "Al Qahira", the old Arabic name for Mars. In Sanskrit Mars is called "Mangal" (promising), "Angaraka" (burning coal) and "Kuja" (the fair one). Mars represents strong action, trust and optimism.
Due to its reddish appearance Mars was associated with deities of war in various cultures. Babylonians saw in him Nergal, the god of the underworld, death and war. For the Greeks and Romans this planet represented their gods of war Ares respectively Mars. In Nordic mythology it stands for Tyr, the god of law and heroic glory. Aztecs called it Huitzilopochtli, the destroyer of people and cities. Buy land on mars now.
A total of 100 acres on Mars
A four-colour personalised title deed with your name and the coordinates of the property
Martian map with your property marked on it
Interesting coloured information leaflet with facts about Mars
Free of charge: in addition, all documents are available to you as download within 24 hours.
Buy a legendary piece of land on Mars with personalised title deed from the original seller. This is supplied to you including an information leaflet of the Martian property and a map with your specific coordinates and marked location of your plot of land.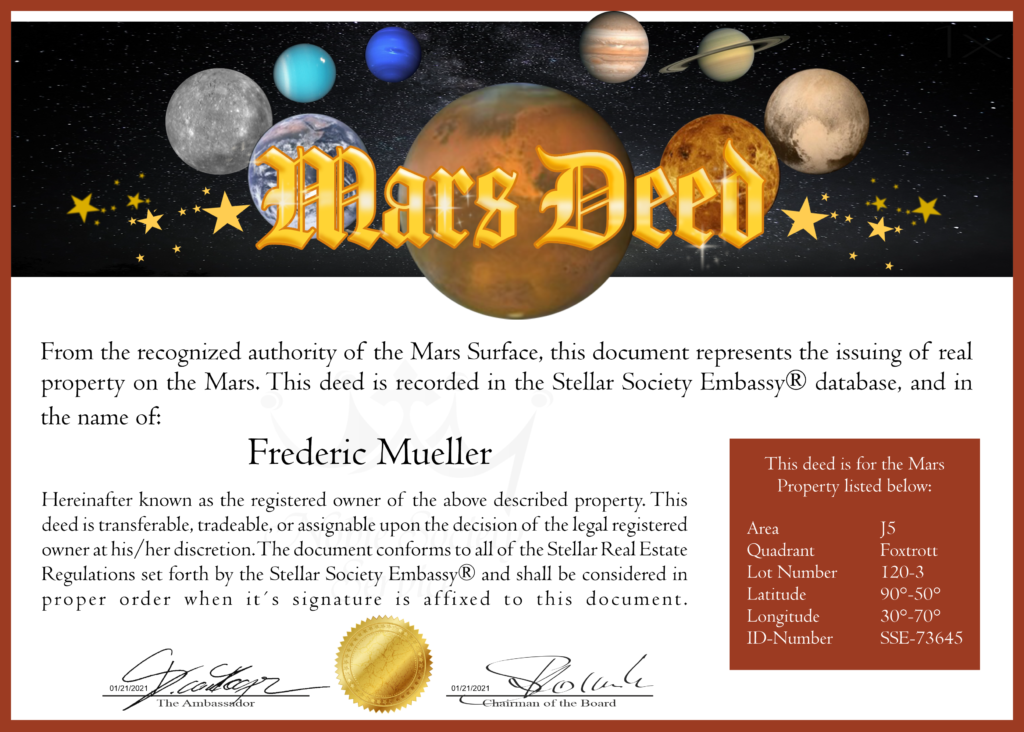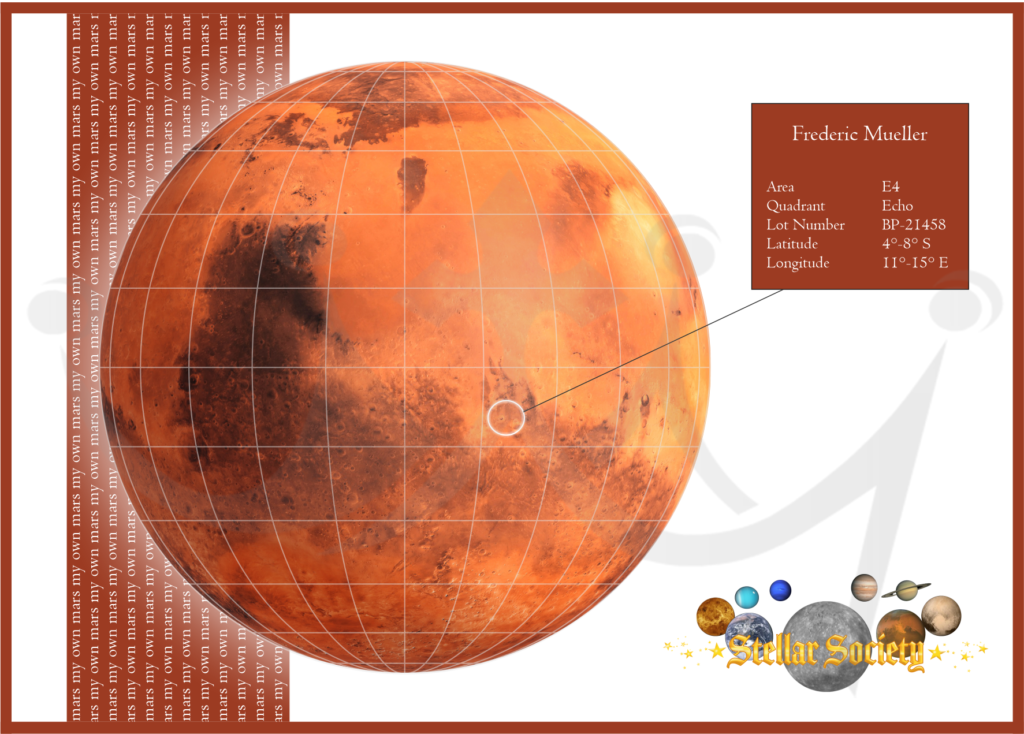 We would like to show you in a few very simple steps how to use your coupon correctly.
The pictures are taken from one of our other sites, but the workflow is the same.
Please put in the name for the first certificate and, if you like, the name for the free additional certificate. Select any accessories you like (not included, there will be a charge) and click "ADD TO CART."
Ready? OK, let´s go to view our cart and check out.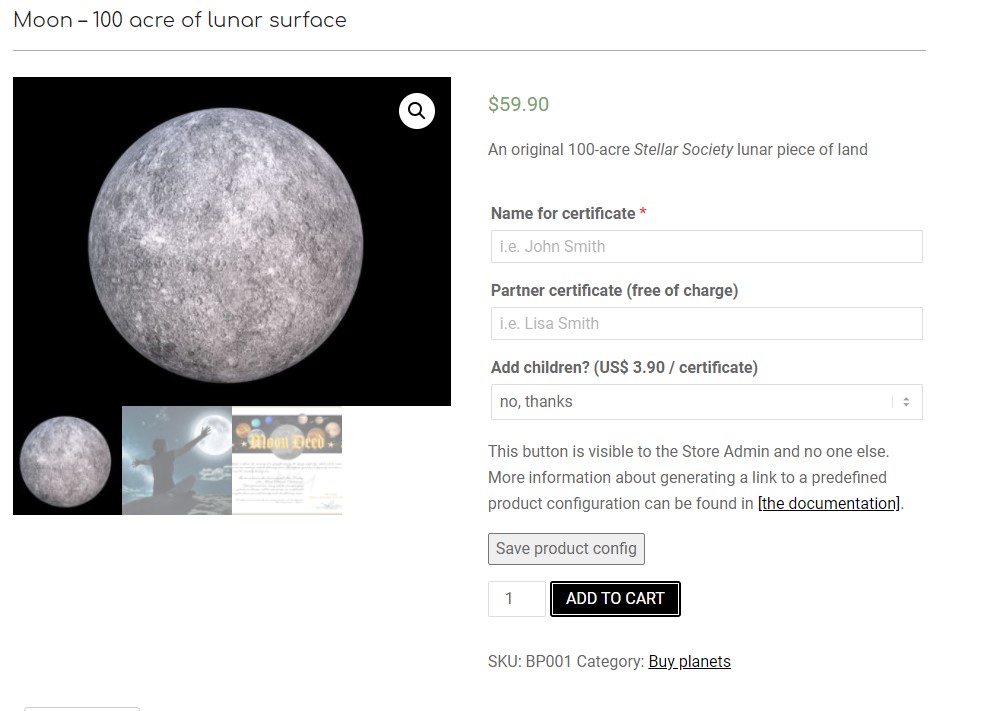 Now we redeem your voucher.
A: please copy your voucher code from Groupons´s website. Make sure, you copy the REDEMPTION code, not the order number or anything else. It needs to be the redemption code. Click on "Apply Coupon"
B: please check now if the voucher value was deducted correctly. It should be 59.90 for all planets, 139.90 for the Triple Package.
C: if the voucher has been redeemed, please proceed to checkout.
At the checkout please fill in your address and proceed to payment. There will be no charge for the certificates (with the exception of children's certificates, if you would like to order some)
We need to charge for shipping. The certificates will be sent by air from Europe to the USA , where USPS receives the packages and delivers them to you.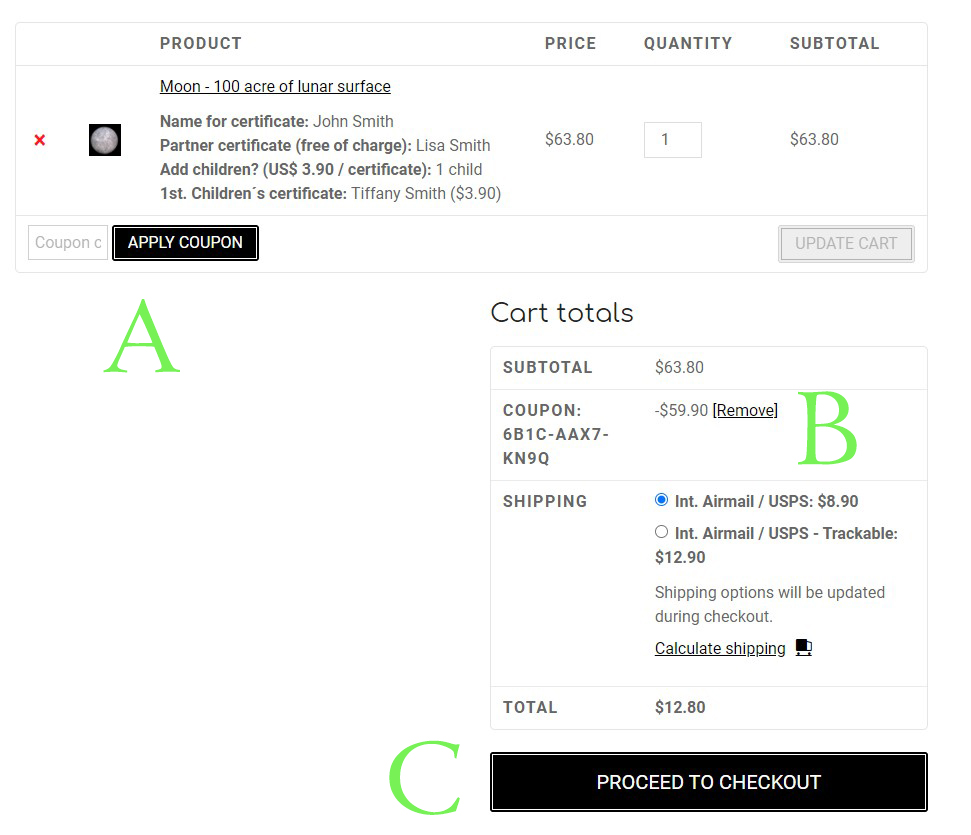 Can we live on mars?
Living on Mars is a challenging prospect, but it is possible with significant technological advancements and infrastructure development. The Martian environment is extremely harsh and different from Earth, with no breathable atmosphere, low atmospheric pressure, extremely cold temperatures, and high levels of radiation.
Several space agencies and private companies are currently working on developing technologies and plans for long-term human presence on Mars. The primary goal is to establish a self-sufficient and sustainable human settlement on the planet, which would involve creating habitats that can provide protection from the harsh Martian environment, developing sustainable sources of energy and water, and producing food and other resources in-situ.
The current plans for Mars colonization involve sending a series of robotic missions to lay the groundwork for human missions. These missions will focus on understanding the Martian environment, identifying resources that can be used to sustain human life, and developing the technologies needed for long-term human presence on the planet.
Despite the many challenges, the idea of humans living on Mars has captured the imagination of scientists and the public alike. The red planet's potential as a new frontier for human exploration and settlement make it an exciting target for future space exploration.